The Painting of the season
The Painting of the season
With the "Painting of the season " Ella wants to draw special attention to a painting from her collection and tell you something about the background of the painting. The painting is for sale in that season with a special 10% discount! In addition, Ella will personally come to your home to deliver the painting.
Autumn 2016
ʻFrench walnut tree'
2013
acrylic jon canvas
Size: 90 × 90 cm, thickness 4 cm
This walnut tree is found in the Morvan in France. It has been painted in the early spring morning with the sun just over the mountains. The silhoute of this leafless tree with turqouise colored moss on the branches, was surrounded with all the beautiful spring colors. I enjoyed the beatiful view and captured this on the canvas.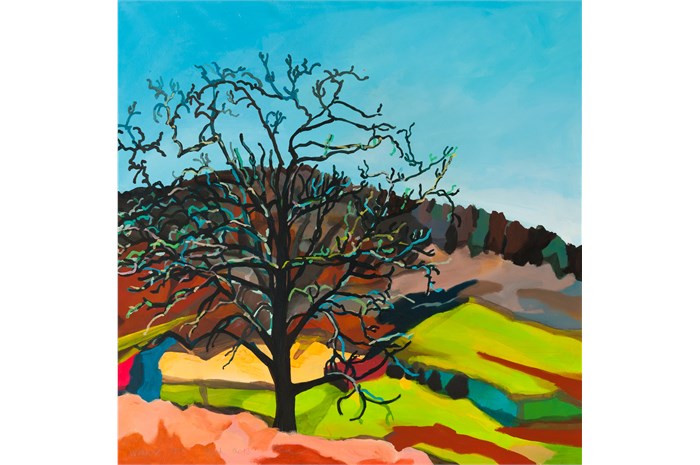 The month august 2016
ʻPoppiy flower I'
2013
Acrylic on acrylic with bulging
Size: 1.05 × 1.05 m
Every time the earth is completely disturbed ( the site preparation of the soil) you often unexpectedly see the first poppies coming out the ground. Sometimes alone, sometimes in groups, but always with their powerful color. After each chaos, sometimes total destruction, new "life" is groing and begins too bloom! Sometimes chaos is necessary for the creation of beautiful and unexpected things.
I think the poppy flower is a very special and inspiring flower. Fragile on a very thin and delicate stem. Enormously powerful in its color. Beautiful shapes. These poppies are painted in mirrored image to the back side of an acrylic plate. Many layers of different shades of red in combination with these translucent acrylic plate gives more intense color. The plate is subsequently curved in the factory and hang on distance tubes for the wall. The painting can also hanging outside in the garden.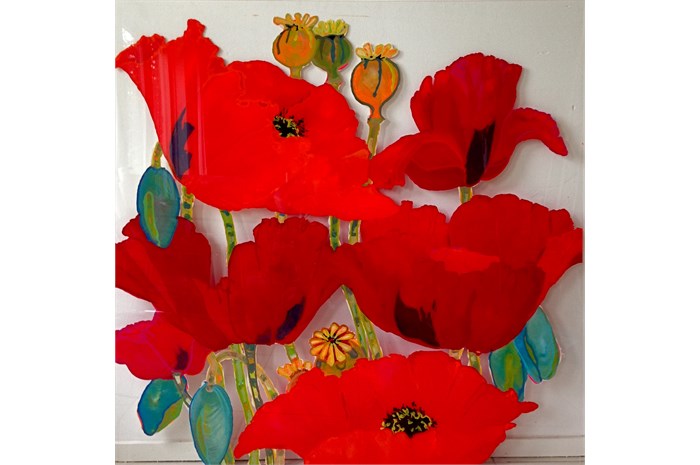 The month july 2016
Portuguese fig with leaf
2013
Oil on canvas
Size 1:20 × 1.60 m, 4 cm thick
Painted in the spring in the João Clara vineyard, in Algarve, Portugal. The outline for this fig leaf in I made in the beautiful João Clara vineyard with more than 300
year old trees. I painted the same tree once before in spring, when all the branches were almost bare and facing upwards . Due to the heavy leaves and figs, the tree turned into a kind of umbrella under which one could enjoy the shade. The sweltering heat gives beautiful colors . The earth is red and bright sunlight has free play between the leaves. Back in my workshop in
Zeewolde I had great pleasure in painting this beautiful old fig tree.